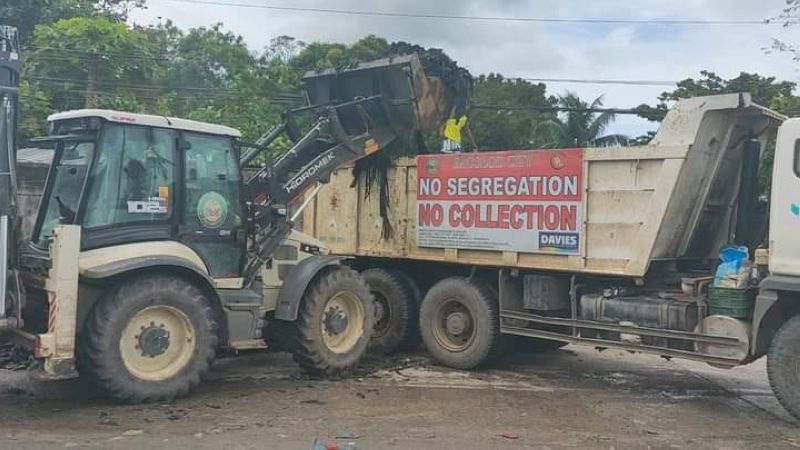 BACOLOD. The Bacolod City Disaster Risk Reduction and Management Office collects more than eight truckloads of garbage at Mambuloc Creek Monday, February 22, 2021. (DRRMO photo)
Posted on February 25, 2021
AFTER the dredging and excavation activities at Mambuloc Creek in Bacolod City, the Disaster Risk Reduction and Management Office (DRRMO) is planning to continue its operation in Mandalagan River in Barangay Mandalagan to ease flooding in some areas in the city.
Executive Assistant Joemarie Vargas, cluster head of DRRMO, on Monday, February 23, 2021, said they will find a way to penetrate along Purok Carvic to ease flooding, especially near a mall in the area.
"We are hopeful to start our dredging activity in Mandalagan River in March," he said.
DRRMO earlier conducted dredging and excavation activities in Mambuloc Creek and collected more than eight truckloads of garbage.
Vargas said they will also ask the assistance of barangay officials to ensure that their constituents will not dump their garbage in Mambuloc Creek.
"We want to sustain the cleanliness and we will also place a barrier in the area," he said.
Meanwhile, as tropical storm Auring slows down, Vargas said Tropical Cyclone Wind Signal No.1 in Bacolod had been lifted around 11 a.m. Monday.
He said Bacolod experienced heavy rains since Saturday, but no flooding incidents were reported in the city.
"Since Auring is still in the Philippines, we are still on 'blue alert' status and are monitoring the situation in the city," he added.