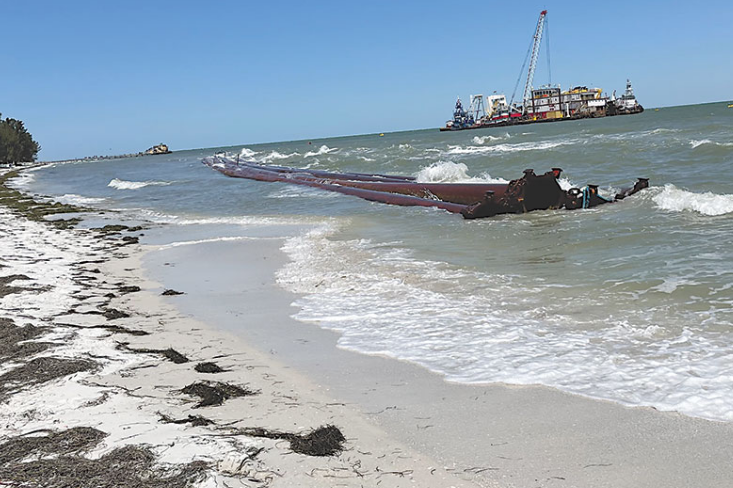 Contractor Weeks Marine arrived April 1 at the wrong location and prepared to dredge sand from Passage Key inlet when officials were alerted to the error, but not before a storm and high winds disrupted the work, sending three 100-foot pipes April 2 to within 10 feet of shore at Bayfront Park. For more, see page 4. Islander Photo: Bob Patten
Posted on April 8, 2021
Now that would be a whopper of an April Fools' Day joke, but it happened.
A dredging crew's April 1 mix-up resulted in a surprise appearance in Tampa Bay just yards from the Anna Maria shoreline. Their location was in error and what followed, an overnight cold front, led to the April 2 closure of the beach at Bayfront Park.
The good news/bad news?
The dredge hadn't started to pump sand.
Anna Maria city officials were surprised April 1 to find dredging equipment 600 feet from the bayfront beach near the north end in Tampa Bay.
The shockwave grew when a Manatee County sheriff's deputy went to investigate and was told the Louisiana-based company, Weeks Marine, was hired by the U.S. Army Corps of Engineers to pump sand onto the Gulf of Mexico beach from that point south.
"Perhaps what the sheriff was told by the crew was wrong, but as you know, that is almost all private property from Bean Point south to the Sandbar Restaurant," Anna Maria Mayor Dan Murphy wrote — referring to the western shore of Anna Maria — in the first of a flurry of emails April 1 with Manatee County Parks and Natural Resources director Charlie Hunsicker, who was equally caught off guard.
A couple of hours later, Hunsicker and Murphy had their answer: The crew had confused its barrier islands and actually was contracted to dredge farther south for sand placement on Longboat Key.
What began as a mistake escalated April 2 to a "public safety issue" when overnight winds and high surf carried three submerged 100-foot pipes to the shore, where they pounded the beach and clanged in the surf, Murphy said.
At the mayor's direction, deputies used "caution" tape to block off the beach at Bayfront Park while the remainder of the park was open.
Murphy notified the dredging project manager and Longboat Key town manager to arrange for guards at the beach until the pipes could be moved.
"If Longboat Key fails to respond to the need for guards, we will take appropriate action as a city for public safety," Murphy concluded.
Rather than send guards to protect the public safety, officials from Longboat Key arranged April 2 for the pipes to be pulled from the shoreline and secured to the dredge by two tugboats and a barge, Murphy said April 5.
But, they were not properly secured and again broke loose overnight and floated to shore.
Again, April 3 the pipes were pulled from shore by tugboats and a barge and secured and, by April 5 had not caused further issues or public safety concerns, Murphy said.
Dredging at Longboat Pass was set to start "sometime next week and so the equipment and activities are part of the mobilization for that project," Thomas Pierro of Boca Raton-based Coastal Protection Engineering wrote in an April 1 email to Hunsicker.
Gladiolus Street resident Bob Patten told The Islander April 1 that he'd been working in the yard when he heard a loud voice coming from the area of Bayfront Park, 315 N. Bay Blvd.
It was louder than what one would hear through a megaphone, prompting Patten to head to the park for a look.
Patten said he was surprised to see the equipment about 600 feet offshore, especially, he said, in an area where "sailboats don't even come that close."