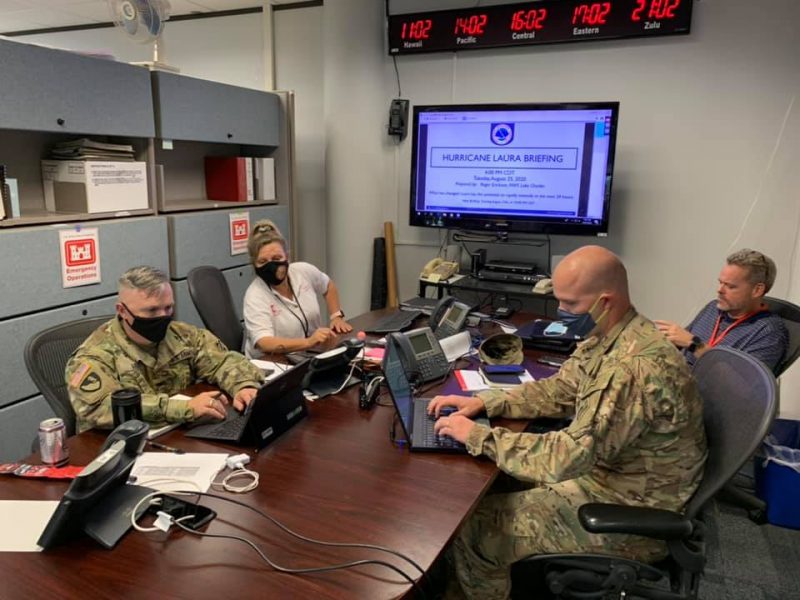 SWG District Commander Tim Vail (left) gets a briefing from members of the District's Emergency Management team prior to Hurricane Laura in 2020. The SWG Team is prepping for what is expected to be an active 2021 Hurricane Season.
Posted on June 9, 2021
The 2021 Atlantic hurricane season, which runs from June 1through November 30, is expected to be "above-average" according to the latest forecast from the National Oceanic and Atmospheric Administration. The agency predicts between 13 and 20 named storms in the 2021 season in the Atlantic, with six to 10 becoming hurricanes, with top winds of at least 74 mph. NOAA is also forecasting three-to-five of those storms will become major hurricanes ranked as Category 3, 4, or 5, with top winds of at least 111 miles per hour.
To prepare for this year's onslaught of storms, SWG kicked off Hurricane Season with a virtual townhall to discuss preparations, recently.
Alicia Rea, Galveston District's emergency management and security director, and Maj. Ian O'Sullivan, Galveston's deputy district commander, provided several key hurricane preparation tips and resources for nearly 170 personnel and families that tuned in virtually.
"In the event of a hurricane, Galveston District's priorities are to help prepare staff and personnel to react and to get back online as quickly as possible to continue our mission of supporting the Texas coast and the American people," O'Sullivan said.
Storm surges can be very dangerous, particularly for coastal Texas, Rea said, citing three of the biggest storms to ravage the area: The Great Galveston Storm of 1900; Hurricane Alicia in 1983; and Hurricane Ike in 2008.
The first step in preparing for a hurricane is determining your own personal risk. Hurricanes are not just a coastal problem, Rea said. Their impacts can be felt hundreds of miles inland. Hurricane Alicia—a Category 3—went inland, curved and made a second landfall around Arkansas. Rea recommended finding out what types of wind and water hazards are possible in your area and to start preparing for them. Some of the hazards associated with hurricanes include storm surges along the coast, inland flooding from heavy rainfall, tornadoes, strong winds, rip currents, and large waves.
Having the basics covered—i.e., preparing a go-kit, food and water stores, a separate savings account for disasters—gives you plenty of time to focus on your family's needs when the storm is about to hit land, Rea added. "If you've prepared and are ready, you won't have to freak out," she said. "Nobody wins when you're frantic."
"When it's time, your priority should be your family; not what you're going to put in a suitcase," Rea said.
Another tip is to begin planning where you would go and how to get there. Rea advised having multiple options: a friend or relative's house outside an evacuation zone. As hurricane season approaches, Rea encouraged following federal, state, and local sources and officials on social media for up to date information to help adjust evacuation plans. She also recommended subscribing to real-time alerts from weather and emergency services, such as the National Weather Service (weather.gov) and the National Hurricane Center (nhc.noaa.gov).
Rea also stressed the importance of having enough supplies to get through the storm and its aftermath. This includes enough non-perishable food, water, medicine, and medical supplies to last each person a minimum of three days. A portable power source, such as a generator, is also a good idea for keeping your essential electric equipment and electronics—i.e., cell phones, refrigerators, etc.—up and running.
"Be sure to have extra cash on hand," Rea said. "ATMs might be down so the only effective currency would be cash."
Another way to prepare yourself is by making sure you have enough homeowners insurance to cover repairs or even replace your home, Rea said. Whether you own of a home or rent, you will need a separate policy for it. Contact your insurance company or the National Flood Insurance Program at floodsmart.gov. Rea suggested acting sooner rather than later as flood insurance requires a 30-day waiting period to take effect.
"Make sure you're keeping a journal or notebook with you to help with insurance claims, too," Rea said. This makes it easier to keep record of all damage done to your home and property.
Rea also advised to ensure your home is prepared to ride out a storm. "Make sure you're up on your repairs and that your home is up to the local hurricane building code," she said. This includes covering your windows, trimming trees, securing loose outdoor items, and moving your vehicle to a safe location.
Lastly, Rea recommended having a written hurricane plan. As part of that plan, make sure you have an emergency contact list and all your important documents are kept together for quick access.
"Stay ready so you won't have to get ready," Rea said.
Here's a list of more resources and information on hurricane preparations:
Hurrevac – This storm tracking and decision support tool combines live feeds of tropical storm forecast information with data with various state hurricane evacuation studies to help emergency managers make evacuation decisions.
Texasready.gov – Offers a wealth of information, including a link to live weather alerts and a disaster supply checklist.
FEMA App – Use this to receive real-time alerts from the National Weather Service, locate emergency shelters, and learn emergency safety tips.