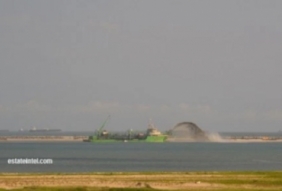 Posted on March 24, 2016
By Yahaya Ibrahim, Daily Trust
A Federal High Court in Lagos yesterday ruled that Mondivest Ltd had a stand to maintain an action against Eko Atlantic project dredgers, for damages caused to the Kuramo Waters.
The judge, Justice Jude Dagat, held this view while ruling on a preliminary objection to a suit filed by Mondivest, claiming N2bn as general damages on its property due to the dredging.
The plaintiff had prayed the court to determine whether the necessary permits set out for the Eko Atlantic Project from Federal Ministry of Environment had been obtained.
The defendants in the suit include M.V. Breughel (sister vessel to M.V. Congo River), the Master of the M.V. Breughel and Dredging Environmental and Marine Engineering NV.
Delivering his ruling, Justice Dagat however, declined granting an interlocutory injunction against Eko Atlantic Project Dredgers.
READ FULL ARTICLE HERE