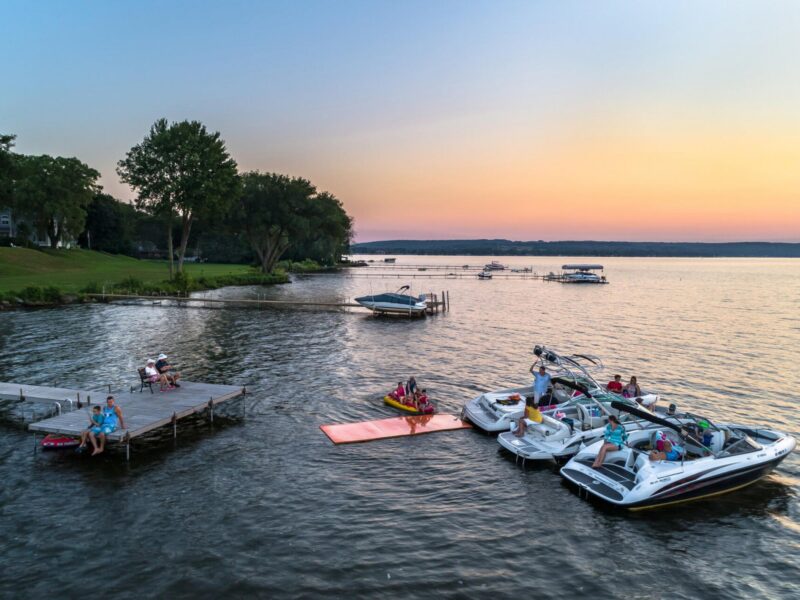 Posted on July 28, 2021
Chautauqua County is looking to help pay for the dredging of Barcelona Harbor.
During the Chautauqua County Legislature's Audit and Control Committee meeting Thursday, committee members unanimously agreed to a resolution to spend up to $20,000 for dredging costs to reimburse the town of Westfield. The county's Planning and Economic Development Committee backed the resolution the night before. The money will come from the county's 2% occupancy tax fund.
The resolution noted that historically high Lake Erie water levels and severe weather events during 2019 and 2020 caused the Barcelona Harbor's breakwaters to be overtopped by damaging waves. "(T)ens of thousands of cubic yards of sediment and storm debris were deposited within the federal navigation channel, rendering it useless as a Harbor of Refuge on the Great Lakes Navigation System and severely diminished it for recreational boating and sport fishing," it states.
Dave McCoy, the county watershed coordinator, shared that because of these storms, the town of Westfield this year authorized divers to pull as much debris out as they could. "They still need to do minor amount of dredging to open the channel," he said during one of the committee meetings.
McCoy noted the harbor has been quite busy this year, even though boaters are having a hard time getting in and out. "There's been some nicks and dings on some boats and propellers as a result," he said.
McCoy said they have been discussing with the Army Corps of Engineers to do a feasibility study to upgrade the harbor so it wouldn't need to be dredged so often. Nothing is in place so far.
For the immediate future, McCoy said he is hopeful that the minor dredging which is still needed will keep the harbor open for the rest of this year and early next year, until the county can secure federal funds.
Earlier this year, U.S. Sens. Charles E. Schumer and Kirsten Gillibrand called on the U.S. Army Corp of Engineers to direct available funding toward an emergency dredging of Barcelona Harbor in the town of Westfield.
"Barcelona Harbor is an economic lifeline for the surrounding community, but recent sediment accumulation has created significant concerns about continued operations, making it all the more vital for the Army Corp of Engineers to prioritize dredging the federally-maintained waterway," Schumer said in a statement. "The harbor is one of the few safe harbor marinas along the Lake Erie shoreline, making its availability all the more important as a critical refuge for boaters. This vital body of water must be returned to its fully functioning depth and condition ASAP so the local community can breathe a little easier and use the harbor to its upmost potential, both for business and recreation."
Now that the two committees have backed the $20,000 resolution, it will be sent to the full county legislature Wednesday for final approval.