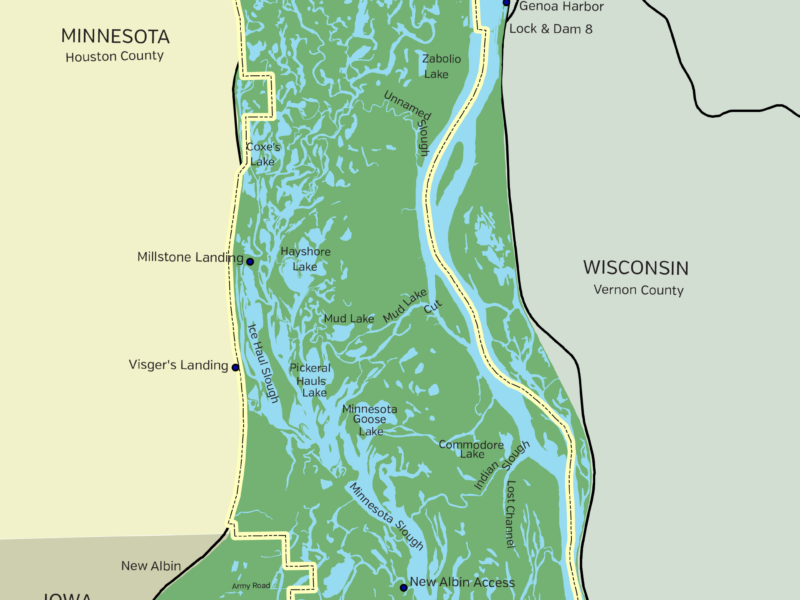 Posted on February 25, 2021
ST. PAUL, Minn. –The U.S. Army Corps of Engineers, St. Paul District, seeks public input on a potential forest restoration project to enhance and restore habitat in the 14,000-acre Reno Bottoms area, located in Pool 9 of the Mississippi River.
In lieu of hosting a public scoping meeting, the Corps has both a narrated presentation describing the project and an on-site recorded interview available at www.mvp.usace.army.mil/RenoBottoms/.
The team is developing and evaluating project alternatives and gathering public input on the project. It is anticipated that a draft report will be available for public review later this year with the final feasibility report completed in 2022. Suggestions and questions from the public are welcome.
Questions or feedback on the proposed project can be directed to Megan McGuire, project biologist, at 651-290-5990 or RenoHREP@usace.army.mil. Please address all formal written correspondence on this project to the St. Paul District, U.S. Army Corps of Engineers, ATTN: Regional Planning and Environment Division North, 180 5th St. E., Suite 700, St. Paul, MN 55101. While not a formal comment period, we ask that comments be submitted by April 30, 2021.
Reno Bottoms is located at the borders of Minnesota, Wisconsin and Iowa in backwater areas of Pool 9 of the Upper Mississippi River in land managed by the U.S. Fish and Wildlife Service's Upper Mississippi National Wildlife and Fish Refuge.
Over the last century, the quality and extent of the forest and aquatic habitat of the Reno Bottoms project area has reduced, and, without action, will continue to degrade. Identification of potential solutions to address the problems at Reno Bottoms is underway. Some potential actions to improve habitat include: side channel or culvert closures to lower water levels; forest planting and seeding, thinning, and invasive species control; improvements to backwater and flowing water habitats; and shoreline protection and soil placement to raise elevation of forests.