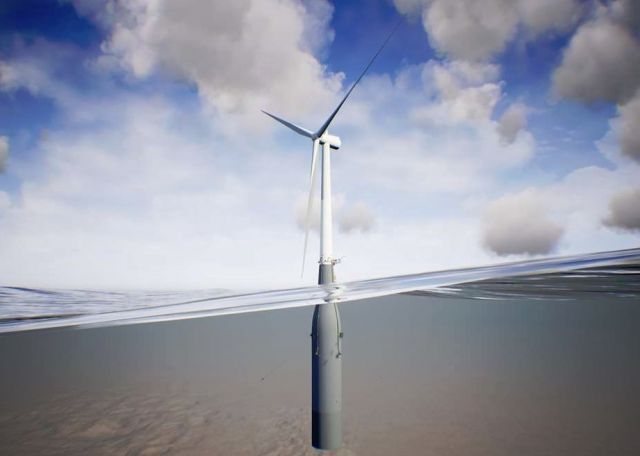 Kværner, which merged with Aker Solutions last year, is in charge of the engineering, procurement, and construction of the floating concrete substructures for Hywind Tampen
Posted on February 25, 2021
Work is in progress in Norway on the building of the concrete hulls for what will be the World's largest floating wind project.
Aker Solutions have started work on the structures that will carry the turbines at the Hywind Tampen floating offshore wind farm.
Aker, through their associate company Kværner, began the concrete slip-forming at the construction site at Stord with close to 1.2kms of slip-forming involved. The company has selected German engineering company Dominion for the design, supply, and supervision services for the slip-form systems that will erect the concrete floats for the Hywind Tampen floating wind project.
Dominion said its cylindrical and conical sets of slip-form systems can be used multiple times and include the hydraulic jacking system, form-work material, yokes and the required decks. Concrete is poured continuously, up to 24 hours a day if necessary, with the form work steadily elevated to create the designed shape. This technology features low manpower needs, plus safe and fast execution.
Kværner, which merged with Aker Solutions last year, is in charge of the engineering, procurement, and construction of the floating concrete substructures for Hywind Tampen under a contract worth around €146 million. The company will also deliver marine operations in a 50/50 joint venture with DOF Subsea. The construction work started at the end of 2020 and Hywind Tampen will comprise 11 Siemens Gamesa 8mW turbines installed on concrete SPAR-type floating foundations about 140km off the Norwegian coast.
Developed by Equinor, together with its Snorre and Gullfaks partners, the 88mW Hywind Tampen floating wind farm will be the first of its kind to produce power for oil & gas platforms. The eleven Siemens Gamesa 8mW turbines are expected to cover about 35 per cent of the annual power needs on the five platforms, Snorre A and B and Gullfaks A, B and C in the Norwegian North Sea.
Located about 140 kilometres off the Norwegian coast in water depths of between 260 and 300 metres, Hywind Tampen will reduce emissions from the Gullfaks and Snorre fields by more than 200,000 tonnes per year, once it is operational in 2022. The wind farm will be directly connected to the Gullfaks and Snorre oil & gas platforms, becoming the World's first such offshore wind farm.
By Dag Pike