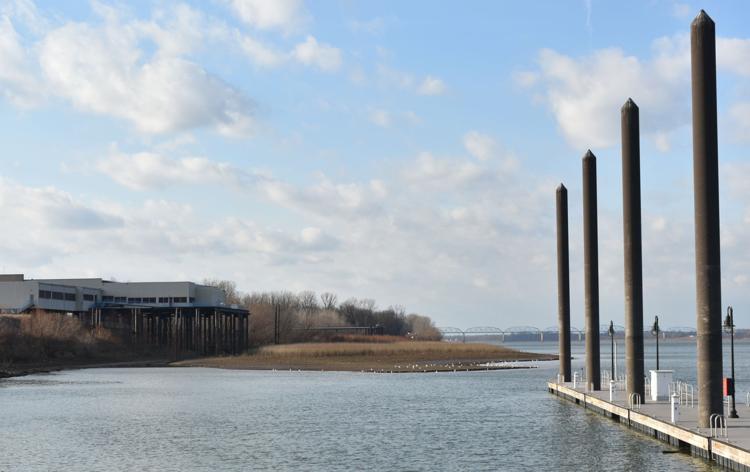 The Paducah City Commission introduced an ordinance Tuesday for a $266,250 agreement for work related to a dredging project near the transient boat dock. It's to prepare permits for the project, which is partly funded through the Federal Emergency Management Agency. City Manager Rick Murphy said the city's share is 13%, or roughly $34,000 of the $266,250. KELLY FARRELL | The Sun
Posted on January 19, 2021
The city of Paducah is taking more steps to prepare for its planned dredging project on a large sediment deposit near the riverfront's transient boat dock.
Officials introduced an ordinance Tuesday night for a $266,250 professional services agreement with HDR Engineering, Inc., in reference to the dredging project. It's to prepare permits that will be submitted to the U.S. Army Corps of Engineers and Kentucky Division of Water, according to the city.
The project is partly funded with Federal Emergency Management Agency's public assistance funds. The city said 87% will be covered through FEMA, leaving the city with 13%. The city's share is roughly $34,000 for HDR's services agreement.
In an interview last fall, City Engineer Rick Murphy explained this sediment deposit probably started around 2015 at the river's bottom. He thinks it built up as a result of the construction of a landmass out into the river, or the transient boat dock and riverfront park enhancements.
It was "exacerbated" over time by significant flooding and river elevation in recent years.
"It is our desire to strategically dredge what needs to be dredged and do a deepwater displacement, if permitted," Murphy said Thursday.
"That would be more financially advantageous for all considered, but prior to doing that, we have to be granted the permission through regulatory authorities to do that."
Murphy also said the sediment has "negatively impacted" Midwest Terminal's nearby offloading facility. He wants to work with other agencies to see about potentially extending the offloading facility to where dredging directly in front of it wouldn't be needed again, and then the city would dredge only for maintenance associated with the transient dock.
"If left unchecked and nothing done, the transient dock will become unusable between the dock itself and the land, and we don't want that," he told commissioners. "So, we're trying to get ahead of this and, fortunately, we have FEMA working with us to do this and also Midwest Terminal."
Shannon Provance, of HDR Engineering, addressed the commission and shared that he realizes it's a "big number," but it requires a lot of effort. He gave a brief explanation for pages of technical jargon and information, which was part of the meeting packet.
"… The purpose of that information is the regulatory and resource agencies require a lot of paperwork, documentation, investigation, analysis — a lot of effort — before we can disturb that material and relocate it, and that's the purpose of this permitting package," Provance said.
As for timing, Murphy expects the ordinance to be up for adoption at the Jan. 26 commission meeting. The ordinance requires a second reading and, once there's a signed contract, HDR will be authorized to start working on it.
"It's tough to put a timeframe on it because you have to have favorable river conditions, such that the divers can go underwater and physically survey the river bottom for any type of endangered species present and also endangered species' habitats," he told The Sun.
"And prior to spending any federal dollars and/or being given any permits to do this kind of work, we've got to make sure that we have done our due diligence to satisfy the regulatory requirements."
Source: paducahsun