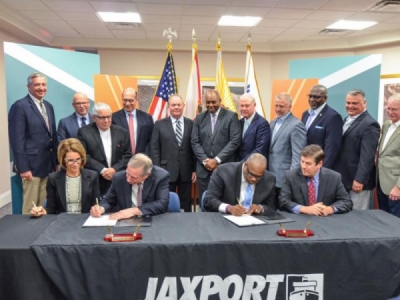 Posted on March 13, 2019
Officials from the Jacksonville Port Authority and SSA Marine inked a $238.7 million deal on March 4 to expand a container terminal. Provided/Jaxport
Another container terminal is joining the Southeast's busy seaport building boom, what some are calling an arms race.
The Jacksonville Port Authority, also known as Jaxport, said last week its board approved a 25-year agreement with terminal operator SSA Marine to invest $237.8 million at the north Florida maritime gateway.
Jacksonville's port has seen a 14 percent annual increase in Asian container traffic over the past five years. The SSA-led project is an 80- to 120-acre expansion of the company's existing terminal space on Blount Island and "will offer deepwater berthing space to accommodate the larger container ships calling Jaxport from Asia more fully loaded," according to statement.
Jacksonville joins ports in Charleston, Savannah and Norfolk that are spending billions of dollars to expand their dock space, deepen their harbors and add new ship-so-shore cranes and other equipment.
The S.C. State Ports Authority also is adding a new point of entry for containerized cargo. The first phase of the 280-acre Leatherman Terminal at the former Navy base in North Charleston is expected to open in 2021. It will include a 1,400-foot-long wharf that will be able to handle ships carrying up to 18,000 20-foot containers.
At full build-out by 2032, the $762 million terminal will be able to handle 2.4 million cargo boxes a year.
Power struggle
An Upstate power tools distributor whose products were stopped at the Port of Charleston because of a patent dispute has won a court challenge that likely salvaged more than 1,000 jobs and the company's relationship with its lone customer.
Anderson-based One World Technologies — a subsidiary of Hong Kong-based TechTronic Industries — markets its products under the Ryobi brand, which is sold exclusively at Home Depot stores.
The company recently obtained a preliminary court order stopping Customs and Border Protection from seizing imports of Chinese-made garage door openers that had once been at the center of a patent dispute filed by rival Chamberlain Group.
One World thought it had solved the dispute by redesigning its opener with a wireless controller rather than a controller attached to a wall console by wires, like the version Chamberlain makes.
While it was waiting on the federal government to issue a final ruling on its redesigned opener, One World started importing the products.
That's what kicked off the company's legal fight.
Customs agents seized a shipment containing 986 openers at the port last June and then denied One World's appeal of the seizure, setting up a showdown between the company and the U.S. government in the Court of International Trade in New York.
One World said in court documents that the government's actions threatened its reputation with customers, future business opportunities and the company's relationship with Home Depot.
"Based on my years of experience in the power tool market, this type of damage to Ryobi's brand and reputation is incalculable," Michael Farrah, president of One World's power tool group, said in an affidavit.
Judge Jennifer Choe-Groves said in an order that she agrees One World no longer violates Chamberlain's patent based on the the redesigned model. She issued a preliminary injunction and temporary restraining order against Customs and Border Protection officials on Dec. 14.
Both sides have until mid-summer to request a trial.
"By granting One World's request for a preliminary injunction, the (court) may have saved One World's business in the United States and their relationship with Home Depot," Yury Kalish, a patent attorney with the Jones Day law firm in Washington, D.C., told the Mondaq news service.
"At the same time, it highlights the importance of bringing all available design modifications to the attention" of regulators while an investigation is pending, he said.
TechTronic's operations in Anderson include a 1.3 million-square-foot distribution, assembly and reconditioning center near the Interstate 85 and S.C. Highway 81 interchange. The company and its One World subsidiary employs about 1,200 people in the Upstate.
Aerospace acquisition
Liberty Hall Capital Partners, a Charleston- and New York-based private-equity firm that invests in businesses in the aerospace and defense industries, has acquired Onboard Systems Inc. Terms of the deal were not disclosed.
Vancouver, Wash.-based Onboard provides external cargo handling equipment for civil and military helicopters. Founded in 1975, the company provides products for 30 helicopter models serving more than 1,000 customers.
Financing for the acquisition was provided by Ally Finance. This is Liberty Hall's sixth acquisition since November 2013.
Source: postandcourier.com