Posted on February 17, 2021
The next generation cable layer recently ordered by Van Oord will have a complete propulsion and maneuvering system supplied by Molde, Norway, based Brunvoll AS.
As we reported earlier, (see story) the vessel has been designed by Fincantieri Group member Vard and will be built at the Vard Brattvåg shipyard in Norway. It is expected to be put into operation in 2023 to serve the ever-growing offshore wind power market.
Brunvoll's system delivery consists of two tunnel thrusters each of 2,100 kW, a combined retractable azimuth / tunnel thruster of 1,500 kW and two azimuth propulsion thrusters, with propellers in nozzles and each with a power of 2,500 kW.
With this package of propulsion and maneuvering equipment, the 130-meter-long vessel will be able to operate and maintain its position (DP2) even in extreme weather conditions.
Brunvoll's azimuth propulsion thrusters are designed to serve different types of ships in several segments. The units are designed with special focus on maximum propulsion efficiency, hydrodynamic capabilities and a robust design with minimal lifetime costs and footprint.
The tunnel thrusters and the combined azimuth / tunnel thruster will be installed in the foreship.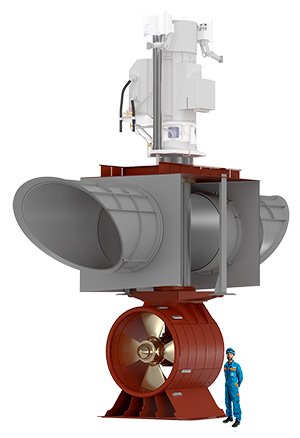 All units are of the CPP (controllable pitch) type and all run at variable speeds. By using simultaneous control of speed and propeller pitch —combinator control — several benefits are achieved, including lower noise and vibration levels on board, less noise into the sea, and lower energy consumption.
Brunvoll has recently delivered similar thruster systems to a cable-laying vessel for Nexans Subsea Operations built at Ulstein Verft.
"We are proud that Vard and Van Oord has chosen Brunvoll as their trusted supplier. This project is yet another proof that the Norwegian maritime cluster can deliver premium system solutions. We praise Van Oord for building at Vard Brattvåg, which strengthens our maritime cluster in tough times", says Group CEO of Brunvoll, Kåre Øyvind Vassdal.