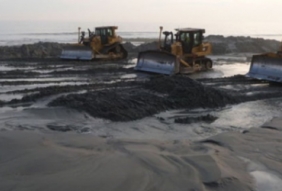 Posted on January 4, 2016
By Bill Barlow, Shore News Today
Cape May County beaches are in the best shape they've been in years, thanks in part to a flood of federal money after Hurricane Sandy, adding fresh sand throughout the county.
But the oceans are rising, and shore communities will face tough decisions in decades to come.
Restoring eroded beaches was a billion-dollar problem in New Jersey even before Sandy, according to data collected by Stewart Farrell, the director of the Coastal Research Center at Stockton University.
He's worked with local towns on issues surrounding beach erosion for decades, and in a recent interview, he said large-scale, federally funded beach projects remain the best solution to disappearing beaches.
READ FULL ARTICLE HERE