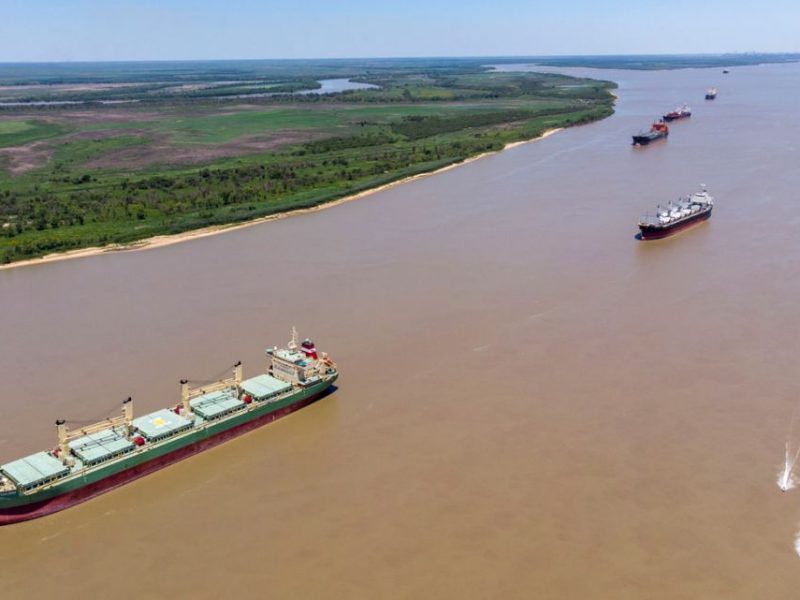 Posted on May 6, 2021
The dredging of the Parana River, Argentina's grains superhighway, will continue for another 90 days, according to a government resolution issued on Wednesday aimed at ensuring that the country's export hub of Rosario will stay open for business.
The current dredging contract was set to expire at the end of the month. The looming deadline had caused nervousness in the local grains industry, the country's main source of export dollars, at a time when central bank reserves are being strained by a three-year recession exacerbated by the COVID-19 pandemic.
"It's official. This guarantees the maintenance of the river," said Guillermo Wade, head of Argentina's Chamber of Port and Maritime Activities (CAPyM).
"The current system will continue for another 90 days," he added. The resolution, dated on Wednesday and seen by Reuters, was set to be published in the government gazette on Thursday.
Belgian dredger Jan de Nul has held contract for 25 years, and will continue doing the job over the next three months while the Transportation Ministry evaluates proposals from companies bidding for the next concession.
Jan de Nul is expected to join the bidding along with other international companies, including Shanghai Dredging of China. Neither company has responded to requests for comment about the upcoming bidding.
Shanghai Dredging's parent company "CCCC" is at the forefront of China's push to lock in food supplies by investing in commodities transport hubs globally.
The Parana River has made the South American grains powerhouse one of the world's most efficient food exporters. Huge cargo ships can be loaded directly at Rosario, and unloaded anywhere from Europe to Southeast Asia.
A deeply dredged Parana allows Argentina to avoid the inefficient barges and trucking that bog down shipping in rival exporters Brazil and the United States. Argentina is the world's top exporter of soymeal livestock feed, as well as a major international supplier of corn, wheat and barley.
Dredging is key to the profitability of shipping grains from Argentina. The river at Rosario is currently dredged to about 34 feet deep. Industry leaders want the next contract to provide for a deeper and wider shipping channel to improve navigability.
Every additional foot of depth allows Panamax ships to carry 1,800 to 2,200 tonnes of additional cargo.