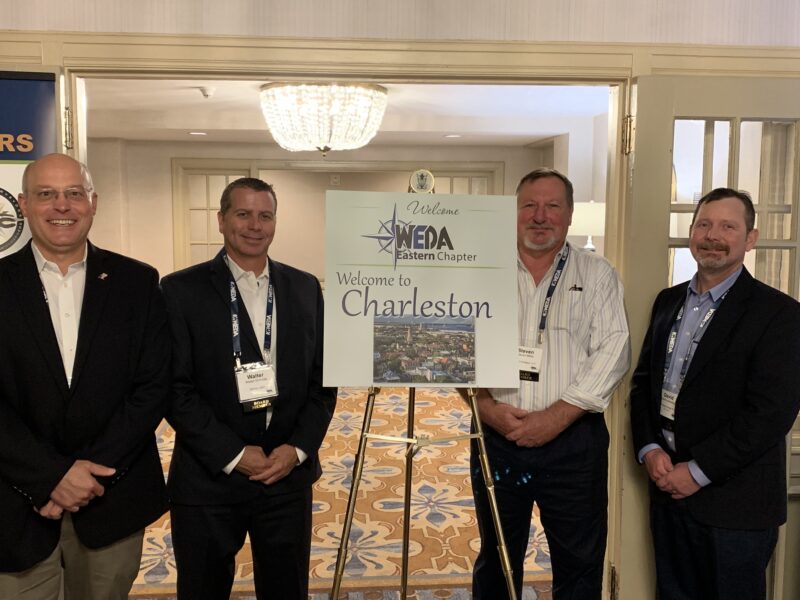 L-R - Andrew Timmis - J.F. Brennan, Walter Dinicola - Anchor QEA, LLC, Steve Miller - Ellicott Dredges, David Johanson - Great Lakes Dredge & Dock Co.
Posted on October 15, 2021
The WEDA Eastern Chapter kicked off their conference in Charleston SC with an Icebreaker reception on Wednesday evening 10/13. The conference had a record attendance of over 200 people made up of contractors, vendors and USACE members.
WEDA Eastern Chapter President Andrew Timmis, Director of Busn. Development for J.F. Brennan, welcomed everyone the following day to start the conference.
Special Keynote
Barbara  Melvin, the COO of South Carolina State Port Authority, which is the 9th largest port by volume in the U.S. gave a fascinating keynote talk. The Port Authority has invested approx $3 billion over the past 5 years to expand its capabilities and advised that there will be future dredging projects for deepening the channel in Charleston. Melvin shared an interesting statistic: the U.S. ports can normally handle a max of two million TEU imports/month, but for the last twelve months the import level has been well above that, which why we are seeing so many vessels offshore waiting to call port. In addition, she advised that the U.S. is approx 300 million sq. ft short of storage space to place all of these goods. She does not expect the situation to ease until well into 2022.
Other speakers were Jim Walker, Dir. of Govt. Relations from the American Association of Ports, who spoke about the current Federal government administration's objectives in the Infrastructure bill (BIF) for Corps funding and electrification in the Build Back Better bill for ports and port transportation vessels.
Panel Discussion
A team from GLDD, South Carolina Port Authority, Anchor QEA and USACE reviewed their collaboration and challenges in the Charleston deepening project. GLDD and Cashman further shared their joint experiences in the three phase Boston harbor deepening project.  Joe Wagner, PE at HDR, Inc, provided an interesting discussion on the NC State Port Authority's purchase and beneficial use of a Water Injection Dredge (WID) for sediment removal from quay areas in ports. Dredging Contractors of America (DCA) CEO & Executive Director Richard Balzano provided a useful insight into the current situation in Washington DC and DCA's continued lobbying on behalf of the U.S. Dredging industry.
Heiko Osterchrist attended for DredgeWire, which is the digital media partner to WEDA.