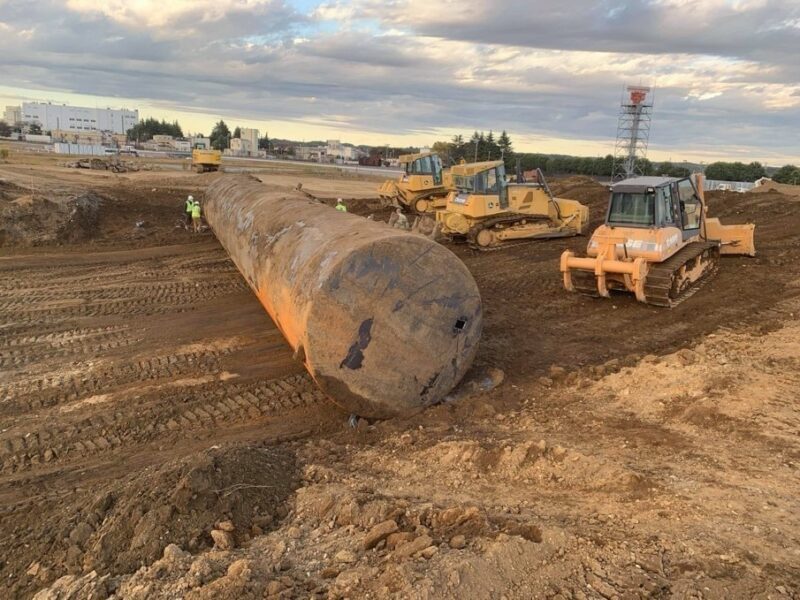 Photo By Mackenzie Brooks | In November 2020, Airmen Engineers from the 374 CES at Yokota AB, Japan, worked in partnership with Resident Office personnel and the US Army Corp of Engineers' Japanese contractor, NIPPO, to remove 16 abandoned fuel tanks at the construction site of a new AFSOC complex on base. The fuel tanks prevented contractors from advancing the project past the excavation phase. In this photo, three bulldozers that are strapped to one fuel tank, haul the tank away to a designated disposal location (USAF photo by SMSgt Aldric Velasquez).
Posted on February 15, 2021
In 2019, the US Army Corp of Engineers (USACE) awarded a $63 million contract to the NIPPO Corporation, a Japanese contractor, for the construction of a new Air Force Special Operations Command (AFSOC) complex at Yokota AB, Japan. The project would add a new airfield apron and six accompanying ramp spaces to house the CV-22 Osprey aircraft. After breaking ground in December 2019, construction progressed smoothly until October 2020, when the team ran into a major roadblock.
During the excavation phase, the team found 16 abandoned JP-4 fuel tanks hidden underground. The presence of these massive 1950s-era tanks was not identified prior to the start of excavation. Over the next month, as coordination and funding concerns threatened to derail the project, the 374 CES rose to the challenge, offering to execute the tank removal in order to keep the project on track. Airmen from the 374 CES Environmental Element began by testing the residual liquid in the JP-4 tanks and ultimately confirmed the water contained no contamination. The Airmen then pumped more than 15,000 gallons of water out of the tanks. The pavement and construction equipment team also offered support by excavating the soil surrounding the tanks. With the help of bulldozers, the team hauled away each of the 16 tanks, which measured 12-feet in diameter by 80-feet long and weighed more than 50,000 pounds. Finally, the 374 CES worked with the Defense Logistics Agency to secure a contractor to dispose of the scrap steel.
Through their efforts, the 374 CES saved approximately $750,000 in project modification and disposal costs. By strategically partnering with the USACE, Yokota Resident Office, and the NIPPO Corporation, the 374 CES enabled this project to continue progressing in accordance with its established timeline and budget.