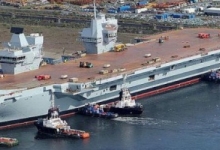 Posted on August 10, 2015
Britain's Royal Navy is revamping part of its Portsmouth Naval Base so it can accommodate the country's newest aircraft carriers.
The 18-month project involves the 90-year-old Middle Ship Jetty. The base's Victory Jetty will be improved later so that both HMS Queen Elizabeth and HMS Prince of Wales can be in port simultaneously.
READ FULL ARTICLE HERE