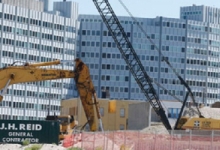 Posted on August 25, 2015
By Suzette Parmley, Philly.com
For Inlet residents and businesses here, the seven-decade wait is over.
Large cranes stationed along the Boardwalk last week began work on a new seawall to reconnect the South Inlet with the North Inlet for the first time since 1944, a visible sign of action on a project that had long been all talk.
For bikers and pedestrians, the seawall's completion will mean once again being able to travel the Boardwalk seamlessly to the Inlet from other Shore towns, including Margate and Ventnor.
READ FULL ARTICLE HERE