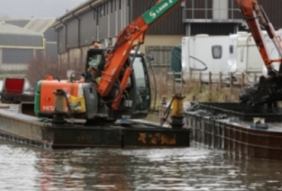 Posted on March 14, 2016
By Lindsay Pantry, Yorkshire Post
WORK has began to dredge 7,500 tonnes of debris from a canal between Mytholmroyd and Hebden Bridge, part of which had to be closed to boats following the Boxing Day floods.
The £350,000 operation, being undertaken by the Canal and River Trust, is expected to last around six weeks and will focus on a 3.5 mile stretch of the Rochdale Canal between Moderna Bridge in Mytholmroyd to Bridge 22 in Todmorden.
Tonnes of debris, stone and sand were washed into the 200-year-old canal during the flooding, and the stretch between Hebden Bridge and Sowerby Bridge was forced to close to boats. The work, which involves using a floating dredger to dig the material from the bed of the canal to clear the blocked sections to navigation, should see the route re-opened by Easter.
READ FULL ARTICLE HERE