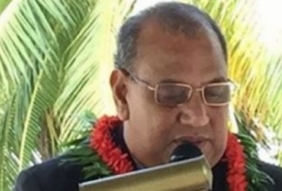 Posted on November 5, 2015
The President of the Republic of Marshall Islands, Christopher Loeak, today officially opened the Coastal Causeway Project in Woja Island, Ailinglaplap Atoll, as part of the country's efforts to build resilience to climate change.
The project has involved constructing a rock causeway combined with soft engineering measures to strengthen the vulnerable and narrow road link between the two parts of Woja Island.
The project is part of the European Union-supported regional €11.4 million Global Climate Change Alliance: Pacific Small Island States initiative, implemented in partnership with the Pacific Community (SPC) and the Government of the Republic of Marshall Islands.
Speaking at the opening of the causeway,President Loeak said: "When it comes to climate change, the Republic of the Marshall Islands, with its low lying and scattered atolls, is especially vulnerable, and sea level rise is one of the greatest challenges we face today."
The Director of SPC's Geoscience Division, Professor Michael Petterson, congratulated the government and people of the Marshall Islands for effectively implementing this project despite all the challenges resulting from remoteness and transportation issues.