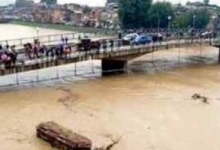 Posted on July 6, 2015
By Mudassir Kuloo, The Kashmir Monitor
Dredging to start in full swing: PHE Minister
With Valley witnessing three floods during the last 10 months not only has the reduction in carrying capacity of water bodies been exposed but it has also brought into focus the importance for immediate measures to prevent such catastrophes in the future.
Although Kashmir has a history of floods but three floods have caught the attention of the government and the people alike that Valley was prone to floods even during the slightest of downpours.
According to the official figures, the Valley has a history of floods since 1893. The first flood which has been recorded on the Shergari gauge dates back to July 21, 1893.
READ FULL ARTICLE HERE