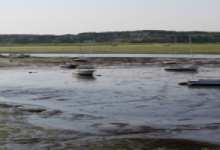 Posted on August 6, 2015
The town of Wellfleet has formed a task force to assess the silting in of Wellfleet Harbor.
The area was last dredged in 2001, and now officials are worried that the silt problem will cause safety hazards if it is not dredged soon.
Task force member and Wellfleet Shellfish Promotion and Tasting Executive Director Michelle Insley said a healthy harbor should be dredged every 10 years.
"It's a unique problem. It's not like we can use the county dredge," Insley said. "People can only boat three hours before or after the tide, and it becomes a real safety issue because the harbor master cannot navigate either."
Insley pointed out that this could also become an economic concern for a long-standing maritime community. The aquaculture industry aside, Insley said many local businesses like charter boats rely on the harbor.
According to Insley, a public hearing will take place July 28 at 7 p.m. at the Council on Agingbuilding on Old King's Highway.
The hearing will address how to fund the estimated $12 million it would take for a complete dredging. Insley said she suspects a combination of state and town funding would be in order.
"We're completing our permitting process with the Army Corps of Engineers," she said. "We need to do what we can do to find alternate sources of funding."