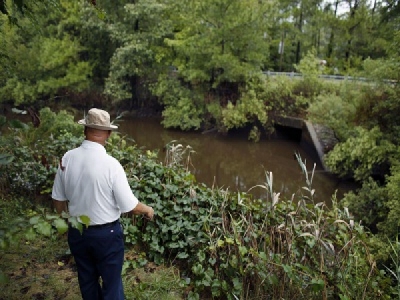 Posted on September 27, 2016
By Katherine Hafner, The Virginian-Pilot
Harry Slaughter sloshed through the muck – silt, a styrofoam Chick-fil-A cup, strewn branches – to get down by the water along the Gilmerton Deep Creek Canal.
"It all comes down through here," he said on a muggy morning last week, surveying the sediment. He got in his pickup and drove down alongside the canal before arriving at his home in Firman Estates.
It's waterfront property, but that designation doesn't mean much anymore, except higher taxes, he said. According to residents along the stretch of canal, property values seem to be going out with the day's tide.
Slaughter is fighting for the city to dredge an 800-foot portion of the canal that is collectively owned by the homeowners, just south of Interstate 64 in Deep Creek.
Debris from newer developments just north, such as the Oak Manor community, overflows from retention ponds to city easements, into the waterway and down to their homes. Many residents think it should be the responsibility of city officials to clean up the mess coming from drainage systems they direct.
But city leaders say it's not their responsibility to take care of private property.
"The fact that there's sediment in the canal shouldn't be a surprise," said Public Works Director Eric Martin. "We would certainly say that erosion and sedimentation is a natural occurrence." The dredging project would cost about $400,000, he said.
The Gilmerton Canal, a man-made extension of the Dismal Swamp Canal, is bordered to the north by the Elizabeth River and to the south by the historic Deep Creek Lock.
In the mid-1980s, Firman Estates neighbors along the canal pitched in and hired someone to dredge 4,200 feet of the canal, said resident Jim Canterbury. This time around, they don't want to pay for what they see as others' mess.
"We can't control it, but it's destroying our property," Canterbury said. Residents improved the property through dredging a while back but "now half of it is underwater and under mud."
Aside from debris washing ashore and high water at times, residents also complain the rising silt has made the canal nearly impassable at low tide.
Resident James "J.C." Stewart sold his boat because he wasn't able to launch it from his dock anymore.
"I pay taxes for waterfront property, and all it is is a silted-up ditch," he said. "People used to use it more than they do now because at low tide it's difficult to even get a canoe out there."
Slaughter recently came to the City Council for the second time this year, asking for help. City officials have told him they do not have the legal authority to dredge on private property without identifying a "requisite level of public use."
A sticking point for Firman Estates neighbors: The city did just that for a Western Branch community in 1993. In July of that year, the council unanimously approved $73,000 to partially fund a private dredging project in the Green Meadow Point neighborhood, according to minutes of council meetings. Mayor Alan Krasnoff was a councilman at the time.
When Slaughter spoke at a recent council meeting, Krasnoff directed city staff to look into the situation at the Gilmerton Canal.
Martin said the Green Meadow Point situation was "similar but different" in technical ways related to the actual canals, including the fact that in Firman Estates, the water is below sea level, which is where stormwater is supposed to end up. He added the Western Branch canal was never actually dredged, and the city kept most of that money.
City Manager Jim Baker said while the city recognizes the Green Meadow Point funding set a precedent, that does not dictate how officials will act in the future.
"The issue is whether we're really providing public payments for private improvements," Baker said. "I hear what they're saying and I'm empathetic, but (sediment flow) is also a natural process."
One idea is creating a Special Service District in the area, taxes from which could be used for such a project. Baker said the City Attorney's Office is writing a report on the topic. Officials in that office declined to be interviewed.
Even if the city decided to help dredge, that's only the first step in cleaning up the area, residents say.
A makeshift dam created by the extension of Shell Road decades ago stops part of the waterway between I-64 and Military Highway, leading to backups that push water into nearby homes when levels are high. Firman Estates homeowners would like that blockage removed to allow water to flow and ease the pressure on their side. The city's public works team is studying whether taking out the dam would be good or bad for all the surrounding communities, Martin said.
The Virginia Department of Transportation is also widening the interstate right above the neighborhood, leading to more drainage issues. VDOT hopes to add a floodgate, but it will likely benefit homes to the north, again leaving out Firman Estates.
Dredging requires permits from the Army Corps of Engineers, which weighs the pros and cons of a project when making a decision, according to its website.
Baker said over time with natural processes like sedimentation, agencies like the Corps of Engineers may come to view a waterway as a different entity itself. In a different city he's worked for, he said a waterway that filled with silt was later labeled wetlands, and not permitted to be dredged as it had become a habitat for wildlife.
Canterbury concurs: "If it continues on, it'll be totally unusable as a navigable waterway."
Source: The Virginian-Pilot