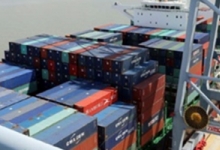 Posted on August 25, 2015
The Viet Nam Shipping Department has proposed investing VND6.4 trillion (US$283 million) in dredging the Cai Mep – Thi Vai Passage to allow access to 100,000 DWT vessels.
The department has asked the Ministry of Transport to approve the project. Funds would come from the state budget and other sources.
The Cai Mep – Thi Vai Passage runs through Tan Thanh District in Ba Ria – Vung Tau Province; Long Thanh and Phuoc An Districts in Dong Nai Province; and Can Gio District of HCM City.
It will be dredged and enlarged to give 100,000DWT and higher vessels access to ports in Cai Mep – Thi Vai; 60,000 DWT vessels to ports in My Xuan – Phuoc An Area; and 30,000 DWT ships to ports in Go Dau Area.
If the project is approved, implementation of the first stage will begin by 2018 and the next stages in 2020, 2025 and 2030.
According to figures released by Japan International Cooperation Agency (JICA), the volume of cargo to be transported through the Cai Mep – Thi Vai Passage is estimated to be 16.8 million tonnes and 26.8 million tonnes by 2010 and 2020, respectively.
However, the volume of cargo handled at the ports and transited in the region in 2010 amounted to 124.4 million tonnes, exceeding JICA's forecasts more than 2.5 fold, according to the Shipping Department.
The department said that it was urgent to create new maritime safety measures and develop the Cai Mep – Thi Vai Passage. — VNS