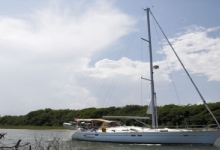 Posted on August 11, 2015
It's a start. A belated start, and only a small step toward the finish line, but a start.
With $2.4 million in federal funds recently made available to the U.S. Army Corps of Engineers, the stretch of the Intracoastal Waterway between the Ben Sawyer Bridge and the Isle of Palms Connector will soon be dredged.
Experts say that area is among the worst along the ever more shallow 1,200-mile waterway. It has become a safety hazard as well as a navigational and economic problem.
Sand has built up in that part of the channel so much that it is only two feet deep at low tide.
That is a fraction of the 12-foot minimum prescribed by the federal government. It will not accommodate most boats, so many boaters — commercial and recreational — go offshore to avoid it. When they do that, boaters lose time and convenience.
And even after the stretch from Sullivan's Island to the Isle of Palms is dredged, waterborne commerce could be compromised because of shallow spots elsewhere. If the waterway becomes unusable, Charleston's supply of fuel, building materials and transit-boat business will suffer.
The shoaling should never have gotten this bad. The federal government is responsible for keeping the waterway navigable, and it has failed for years to do so adequately.
Indeed, a change in federal policy in 2001 has meant far less money for dredging the waterway.
The formula introduced that year determines which places to dredge based on only commercial traffic, not recreational. Both are economic engines and need to be recognized as such.
The Isle of Palms has warned boaters to use caution in the waterway, particularly at low tide. Unsuspecting pilots have run aground in shallow water and caused injuries.
Keeping the Inland Waterway navigable is expensive. Several years ago the Corps estimated it needed $100 million in work.
Nevertheless, like deteriorating roads and bridges, it should be brought up to speed and then maintained regularly so that it doesn't get to this dangerous point again.