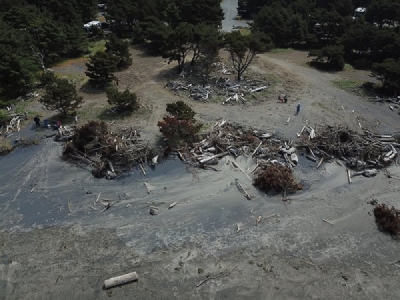 Posted on November 10, 2020
In September, the American Shore and Beach Preservation Association awarded the Lower Columbia Solutions Group the 2020 Robert L. Wiegel Coastal Project of the Year.
This award goes to coastal projects that have stood the test of time and shown a positive environmental, social, or recreational benefit.
With leadership from Ecology's Coastal Management Program, the Lower Columbia Solutions Group (LCSG) spent almost 20 years working at the mouth of the Columbia River to reduce damaging erosion in the area by increasing the beneficial use of dredge sediment. This region is not only critically important to the ecology of the Pacific Northwest, but also one of the busiest hubs for maritime trade in all of North America.
The LCSG's success in reimagining the planning process for the mouth of the Columbia River is being recognized as a model of collaborative science and decision-making.
A collaborative recipe for success
The strength of the LCSG comes from its collective capacity. Its achievements are the result of strong relationship building, shared trust, and collective determination to sustain an important adaptive management process. In addition to Ecology's steady role, leadership from the Corps' Portland District, the Oregon Coastal Zone Management Program, EPA, and NOAA have provided the backbone to maintain the team as a national leader in dredging innovation.
Source: coastalnewstoday