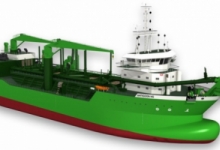 Posted on August 11, 2015
By Tony Slinn
Finland-based Wärtsilä has confirmed it will supply dual-fuel LNG/diesel engines for Belgium dredging major DEME's 8,000m³ Antigoon class trailing suction hopper dredger (TSHD) Scheldt River.
One of two dual-fuel (DF) TSHDs ordered by DEME, Scheldt River will be joined by the smaller Minerva, a 3,500m³ new-generation vessel designed to replace the current Orwell class TSHDs. Both will have Green Passports and Clean Design notations and are scheduled to be operational before the end of 2016.
The pair are being built by Netherlands-based Royal IHC and will be the world's first to operate on DF engines. There was no announcement, however, on who will supply the DF engines for Minerva. In an earlier statement, DEME said engine candidates were twin Wärtsilä 6L354DFs or twin 16DZDs from Anglo Belgian Corp.
READ FULL ARTICLE HERE