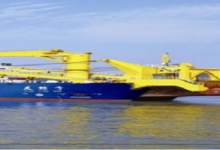 Posted on July 29, 2015
Tianjin Dredging Company, part of the China Communication Construction Company (CCCC), has signed a contract that will see Wärtsilä supply the engines and all essential ancillaries for a new self-propelled cutter dredge that will be the world's largest in terms of pump capacity.
The 140 m long vessel will have a maximum dredging depth of 35 m with a cutter power of up to 7,500 kW and will be one of the largest and most advanced vessels of its type in the world. The most powerful dredge of this type in Tianjin Dredging's current fleet, Tian Jing Hao, is rated as Asia's first and the world's third most powerful with a maximum dredging depth of 30 m and a cutter power of 4,200 kW.
The new super dredge will become CCCC Tianjin's flagship and is being built at the Shanghai Zhenhua Heavy Industries shipyard in China. It is scheduled to be delivered by the shipbuilder in October 2017.
"We have a strong relationship with Wärtsilä and we are confident that they can provide the technology and support needed to make this project a success," says Mr G.M Liu Chang Yun, Ship New Building Management Department, Tianjin Dredging Company.
The Wärtsilä scope of supply, which includes three 16-cylinder Wärtsilä 32 engines, also features a thoroughly planned interface to the external systems including the latest Wärtsilä Condition Based Maintenance (CBM) system.
Wärtsilä's CBM and Remote Monitoring solutions support the daily operation of the installation by applying the company's experience and operational know-how to keep the thermal and mechanical load at an optimum level. They also enable savings in fuel consumption, while simultaneously providing greater environmental sustainability.
"This ship will be one of the largest and most modern self-propelled cutter suction dredge ever built, and the biggest in the world in terms of pump capacity. Reliability and operational efficiency are, therefore, essential and we are proud that Wärtsilä solutions have been selected to achieve these requirements," says Mr. Hans Laheij, Area Sales Director, Wärtsilä Ship Power.