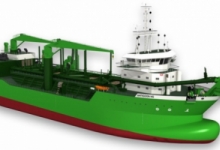 Posted on August 10, 2015
Wärtsilä dual-fuel engines will power DEME Group vessel Scheldt River, the first dredger capable of using LNG as fuel.
Under construction at Royal IHC in the Netherlands, the "Antigoon" class dredger will have 8,000 cu m hopper volume.
Wärtsilä will supply power, including a 12-cylinder and 9-cylinder 34DF engine, propulsion, including two Wärtsilä controllable pitch propellers and two transverse thrusters, and LNGPac gas supply and storage system.
READ FULL ARTICLE HERE