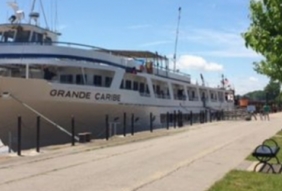 Posted on November 30, 2015
Mayor Lovely Warren wants to study what it might take to turn the Port of Rochester into a greater destination for cruise ships and boating.
Warren submitted legislation to City Council this week to enter an agreement with the U.S. Army Corps of Engineers to carry out the study. If approved, the city would pay $35,000 and provide $24,000 worth of staff support for the project. The Army Corps would pay a $59,000 match.
The study would look at what is needed for "enhanced cruise and excursion activity" in Rochester's harbor, including what additional infrastructure and dredging might be needed.
"In addition, the planning study will include an analysis of how establishing an active, regular cruise/excursion destination at the Port of Rochester would impact the Great Lakes Navigation System and Rochester's ranking as a commercial harbor," Warren wrote in her proposal.
The study also would look at sediment and wave conditions in the harbor. The outcome should help guide future decisions about the port, Warren wrote.
If City Council agrees, the work would take six months to a year to complete.
The city also has funded a new $22 million marina at the port and is working toward on a private development project there that has proven controversial with some Charlotte residents.
Stephen Burnett, executive director of the Great Lakes Cruising Coalition, said Friday that the cruising business is a work in progress in Rochester, as it is in most ports along the Great Lakes.
Rochester is a member of the cruising coalition, which wants more passenger cruises on the Great Lakes.
Burnett, who lives in Kingston, Ontario, said he has stopped in Rochester while boating for decades, and the port here has factors working in its favor. It is well-positioned for traffic coming from the Saint Lawrence Seaway, and it is near both city attractions and the Finger Lakes region, he said.
"I think Rochester has some pretty good opportunities," Burnett said. "We're still building this industry; this is not going to happen tomorrow morning."