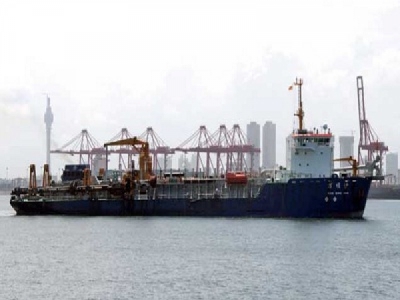 Posted on October 4, 2016
Signalling the Port City construction would soon be up and running, the first of the dredgers to work on the reclamation docked at the Colombo South Harbour yesterday, the company said in a statement yesterday.
The Geological Survey and Mines Bureau (GSMB) mining license for the designated sand burrow area was obtained by the project.
"The Project Company now has all required permits and consent to carry out the reclamation work in keeping with the Development Permit issued by the Department of Coast Conservation and Coastal Resources Management," the company said.
The mining license for the Site 2 burrow area was obtained by the project company, China Harbour Engineering Company (CHEC) Port City Colombo Ltd. on 26 September.
The contractor for the project, CHEC will install buoys along the dredging zone to ensure the safe operation of fishing vessels. The reclamation site would also be demarcated to facilitate environmental monitoring. All the dredgers will be equipped with AIS system, long range radar, light system, CCTV, and state-of-the-art communication system to ensure navigational safety, the company assured.
The dredger will be restricted to operate at least four km from the shoreline and in depths exceeding 15m. The depth of dredging will be limited to three m from the surface of the sea bed, and a thickness of sediment of at least 0.5m will be maintained. Additional regulations were part of the new agreement signed by CHEC and the Sri Lankan Government earlier this year.
Source: DailyFT