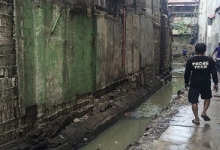 Posted on July 27, 2015
PART of the wall of 138 Mall in Colon Street was demolished yesterday to prepare for the dredging and de-silting of the Estero de Parian starting Monday.
Dredging of the waterway, which is clogged with trash and badly polluted, is part of City Hall's efforts to revitalize the downtown area and ease flashfloods.
"The mall cooperated. The clearing order is part of the clearing of the vendors. We've seen that part of the mall's wall has already occupied the creek," said Raquel Arce, head of the Prevention
Restoration Order Beautification Enhancement (Probe) team.
The team earlier demolished and relocated 13 Tabo sa Banay stalls that occupied the area, identified as a major cause of heavy flooding in Colon.
City Legal Officer Jerone Castillo, who heads the Colon Revitalization Program, was grateful for the cooperation of the Department of Public Works and Highways (DPWH) in undertaking the de-silting project.
"We already know that it's the chokepoint of the drainage system. If we can't dredge that area, there will always be heavy flood in Colon. Silt in that area has reached two meters in depth. If we can dredge it and clear it, the volume of the water it can absorb will be huge," Castillo said.
DPWH personnel will undertake the dredging. City Hall will transport the dried silt that will be collected from the estero.
Castillo said they plan to dredge the entire estero up to the port area, where it meets the sea. The estero passes through Gaisano Main, The Freeman, and R. Palma St.
Engr. Gomer Castillo, chief of the maintenance section of the DPWH Cebu City District, said their personnel will manually shovel the silt from the estero since the area is not wide enough for heavy equipment to come in.
He said it will take them until the end of August to finish dredging the 62-meter portion that the Tabo sa Banay used to occupy. At least 500 cubic meters of silt are expected to be taken out.
"That area hasn't been dredged for more than 20 years already. Our target is to finish that area by the end of August but we will try to make it earlier," he said.