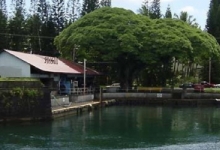 Posted on July 30, 2015
A $1 million contract to dredge the entrance channel of the Wailoa Small Boat Harbor and a portion of the inner basin has been contracted to American Marine Corporation. In addition to the widening, the Department of Land and Natural Resources Division of Boating and Ocean Recreation plans to have the inner basin of the harbor at a mean lower low water level depth of 8 feet.
According to DOBOR officials, the last time the area was dredged was in 2007.
The project, which under contract will dredge about 8,900 cubic yards, is expected to begin at the end of July.
Content removed from the entrance and basin is expected to be "stockpiled in a dewatering basin above the beach next to the rock groin," according to the DOBOR.
Following testing of the dredged matter, the Department of Health Solid and Hazardous Waste Branch will approve the material to be used as general fill. The material will eventually be used by various state agencies as fill materials at facilities.
Prior to the work, American Marine Corporation will be moving necessary equipment to the site. The tentative schedule for work as released by the DOBOR is as follows:
July 7 to July 21: Building dewatering basin and set-up land-side staging area.
July 22 to Sept. 22: Dredging.
Sept. 23: Post dredge survey.
Sept. 23-25: Demobilize.
Work on the project will cause temporary closures of the harbor entrance channel. DOBOR does not expect that extended closures will be necessary.
Caution in the area is advised for boaters who may approach and navigate around the contractor's dredge barge.