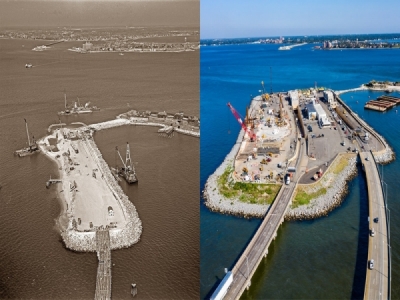 Posted on November 4, 2020
Virginia leaders recently gathered to break ground on expansion of the Hampton Roads Bridge-Tunnel, the largest infrastructure project in the state's history.
Linking Hampton to Norfolk and Virginia Beach, the 3½-mile tunnel has two immersed tube tunnels connecting man-made islands, with trestle bridges leading to shore. It carries Interstate 64, an important east-west freight route that runs from Hampton Roads through Richmond and Charlottesville and into West Virginia.
The $3.8 billion project, which commenced Oct. 29, will involve increasing tunnel and interstate capacity along 9.9 miles of I-64 between Hampton and Norfolk.
More than 100,000 vehicles use the Hampton Roads Bridge-Tunnel every day during tourist season, according to the Virginia Department of Transportation. Trucks can traverse the facility, although height restrictions are in place for vehicles moving west.
"For too long, traffic in the Hampton Roads region has bottlenecked at the tunnel," Gov. Ralph Northam said. "Folks in this region deserve an easier, more reliable commute. This is the largest project in our history, and it will ensure that people can move around faster [and] that commerce flows more easily."
Specifically, the project will add twin two-lane bored tunnels and widen the segments of I-64 leading up to the Hampton Roads Bridge-Tunnel on either shore. Construction crews will use a specialized tunnel boring machine that is being built in Germany.
Source: coastalnewstoday