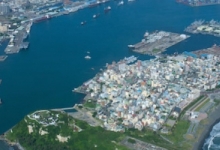 Posted on August 15, 2015
Van Oord has been awarded the dredging contract for the Kaohsiung Intercontinental Container Center Phase II in Taiwan.
The contract is with the Port of Kaohsiung, Taiwan International Ports Corporation (TIPC) and is worth approximately $144.5m. The preparations have already started and the execution period runs until January 2018. The project involves the dredging and reclamation of 37 million m3 of sand for the extension of Kaohsiung Port.
READ FULL ARTICLE HERE