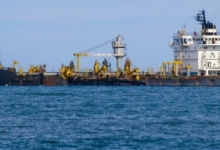 Posted on August 25, 2015
After a lifetime of almost 100 years, the Northern lock in IJmuiden needs replacement. Rijkswaterstaat (the Dutch Highways and Waterways Agency) has awarded the construction of the new IJmuiden sea lock, which is located at the entrance to the North Sea Canal, officially to the Consortium OpenIJ.
This consortium, consisting of BAM-PGGM and Volker Wessels-DIF will be responsible for design, construction, financing and maintenance of the new lock for a period of 26 years. The dredging and dry earth works will be carried out by the Van Oord – Boskalis joint venture.
A new, larger lock system will improve the accessibility of the port of Amsterdam and stimulate the local economy by offering space to the growing ships independent of the tidal levels. The new lock will be 70 meters wide, 500 meters long and 18 meters deep. Construction will start early 2016 and the new lock will be available for shipping at the end of 2019.
After contract close all construction activities will be carried out by BAM and VolkerWessels. The activities, carried out by the Van Oord – Boskalis joint venture, consists of dry earth works, removing part of the Zuidersluis Island, dredging the new entrance channels (both sea side and the North Sea Canal side, dredging the new lock chamber and installing new bed protection. The joint venture Van Oord – Boskalis will be responsible for maintaining the channels for a 26-year period after the work is completed.
For more information, please visit : http://www.vanoord.com