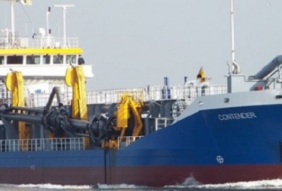 Posted on April 4, 2016
Van Oord has acquired trailing suction hopper dredger 'Contender' from Dutch Abeko Marine, the company said in its press release. The vessel has a hopper capacity of 2,680 m3. This purchase allows Van Oord to strengthen its fleet in the small trailing suction hopper dredger segment.
'Dravo S.A., our Spanish subsidiary, will deploy the vessel in the Mediterranean and north west Europe to solidify our market position', says Executive Board member Niels de Bruijn.
READ FULL ARTICLE HERE