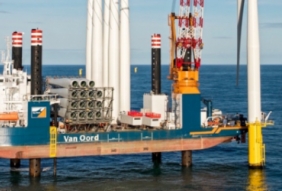 Posted on March 17, 2016
An "extraordinary" year at Van Oord's offshore wind business has driven record results for the company with profits of €169m recorded for 2015, up from €119m in 2014.
The Dutch company released its annual results today which also show strong revenue growth to €2.6bn, up some 23% on the €2.1bn recorded in 2014.
Van Oord said the success came on the back of the completion of the 129MW Luchterduinen offshore wind farm off Belgium where it pressed its Aeolus vessel into action on monopile and turbine installation during the year.
In addition, the company said the "fast-tracked execution" of the 600MW Gemini wind park in the Dutch North Sea contributed to strong financial results.
Chief executive Pieter van Oord said: "The market for large-scale offshore wind parks is growing rapidly. Offshore wind projects is a relatively new business unit and Van Oord has invested a considerable amount of capital in it in recent years."
However, the company also said its order portfolio was down 27% at the year end to €2.3bn from a €3.2bn figure in 2014.
This is due to a declining market for oil and gas projects as well as offshore wind. The company said there has not been as many offshore wind projects as expected, however, "problems arising from climate change are creating opportunities".
Last year, Van Oord was selected as install foundations at Dong Energy's 256MW Burbo Bank extension and 660MW Walney 3 both in the Irish Sea.