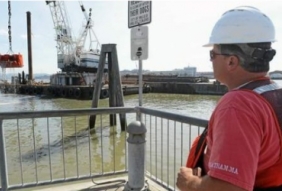 Posted on October 20, 2015
By John Glidden, Vallejo Times-Herald
Local residents may have noticed a huge mechanical crane working where the Vallejo Ferry Terminal dry dock use to sit.
Not to worry, just some routine maintenance.
Ernest Sanchez, public information and marketing manager with the San Francisco Bay Ferry said the ferry terminal basin is being dredged for standard maintenance.
"The basin has silted and requires maintenance dredging," Sanchez wrote in an email about the project.
READ FULL ARTICLE HERE