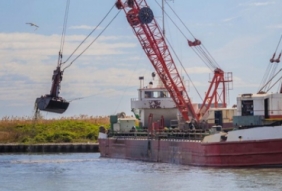 Posted on October 28, 2015
The U.S. Army Corps of Engineers, Galveston District, awarded a $5,863,500 maintenance dredging contract for work in the Texas Gulf Intracoastal Waterway (GIWW), Corpus Christi Ship Channel to Port Isabel in Nueces, Kleberg, Kennedy, Willacy, and Cameron counties, and for work at the entrance to the Port Isabel Small Boat Harbor in Cameron County.
A contract was awarded to Orion Marine Group out of Port Lavaca, Texas, yesterday.
"The GIWW is an essential component of the nation's navigation network extending for 1,109 miles from Appalachee Bay Florida to Port Isabel, Texas," said Seth Jones, an operations manager with USACE Galveston District's Navigation Branch. "The GIWW is the third ranked inland waterway in the nation handling 126 million short tons of cargo. The 379-mile Texas portion of the GIWW handles more than 73 million short tons of cargo annually valued at $42 billion."
According to Jones, approximately 75 percent of this cargo is classified as petroleum and petrochemical-related products (2013).
"Maintenance dredging in these navigation channels will remove approximately 1,250,000 cubic yards of material from the GIWW and will keep open this critical navigation channel that links the valley to all ports and businesses in Texas as well as and other states that are served by the
GIWW," said Jones.
Work is scheduled to begin November 2015, with an anticipated completion date at the end of February 2016.
The USACE Galveston District was established in 1880 as the first engineer district in Texas to oversee river and harbor improvements. The district is directly responsible for maintaining more than 1,000 miles of channel, including 270 miles of deep draft and 750 miles of shallow draft as well as the Colorado River Locks and Brazos River Floodgates.