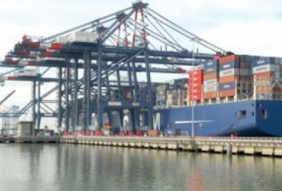 Posted on September 9, 2015
The Vietnam Marine Administration has proposed the Ministry of Transport to invest VND6,387 billion (US$284 million) in a project to dredge Cai Mep-Thi Vai passage in the southern provinces of Ba Ria-Vung Tau, Dong Nai and Ho Chi Minh City.
The capital will be mobilized from the state budget and some other sources, it suggested.
According to the administration, studies for the last 30 years have showed that the 49 kilometer passage in Cai Mep-Thi Vai River is located in an area advantageous for the development of seaports.
The project will conduct an overall study on marine safety measures and effective exploitation of the passage's potentials, and map out a development plan and upgrading route for it.
According to the proposal, the passage would be dredged to permit vessels with over 100,000 DWT to enter Cai Mep-Thi Vai seaport, 60,000 DWT ships to land at ports in My Xuan-Phuoc An area, and 30,000 DWT to reach ports in Go Dau area.
Cai Mep-Thi Vai Passage is located in Tan Thanh district of Ba Ria-Vung Tau, Long Thanh and Phuoc An in Dong Nai, and Can Gio in Ho Chi Minh City.
If the Ministry of Transport passes the proposal, the project will be implemented before 2018, the administration says.