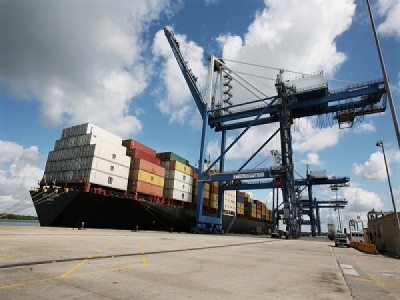 Posted on September 29, 2016
By Emma Dumain, The Post and Courier
House Republican leaders appear to have reached a compromise with Democrats in a bid to rescue a water infrastructure bill that would, among other things, keep the Charleston Harbor deepening project on schedule.
According to the new agreement announced late Tuesday night, House members will vote Wednesday on an amendment to the Water Resources Development Act, or WRDA, that would give the city of Flint, Mich., $170 million to address its ongoing contaminated drinking water crisis.
The compromise is expected to pacify Democrats, who had been threatening to withhold support from the bill unless they were guaranteed some Flint money would be included in the final product.
This new sum falls short of the $220 million originally proposed – it was included in Senate's WRDA bill, which passed that chamber earlier this month. It's more than likely that when Congress returns from the October recess and representatives from the two chambers meet to negotiate a final product, arguments over the higher or lower number will ensue.
But for the time being, an aide for House Democratic Leader Nancy Pelosi of California told reporters the compromise had her blessing. It also appears to have support from the GOP rank and file: The amendment was co-sponsored by a Michigan Democrat, U.S. Rep. Dan Kildee, and a Michigan Republican, U.S. Rep. John Moolenaar.
If U.S. Rep. Jim Clyburn, South Carolina's only Democrat and the third most senior member of Democratic leadership, found himself torn between loyalty to his party and to his constituents, he can now cast that conflict largely to the wayside.
The lower of the two spending levels on the table could also make it easier for fiscal conservatives to hold their noses and vote for WRDA despite being philosophically disinclined to spend federal dollars on state-specific concerns.
It's not clear how the Republicans in the South Carolina Congressional delegation will react. They lobbied especially hard for the House to pass WRDA before Congress departs for the pre-Election Day recess, recognizing a deepened Charleston Harbor would ensure the port remains competitive in an era of longer, heavier cargo ships.
Leading up to the developments Tuesday evening, U.S. Rep. Mark Sanford, R-S.C., warned that any Flint money in the WRDA bill would "give me extreme discomfort."
Sanford was a driving force in compelling leadership to schedule a vote on WRDA before the end of the fiscal year, an effort also endorsed by Gov. Nikki Haley.
"I just hope we can keep it out of the House version," Sanford said. "We'll just have to take one step at a time."
"You have to look at the larger bill, there's a lot of good stuff in there," said U.S. Rep. Mick Mulvaney, R-S.C., earlier this week. "I don't like the idea of Flint money, but we'll have to see what it looks like."
U.S. Rep. Jeff Duncan, R-S.C., agreed. "I know our delegation is all trying to support (WRDA) because of how much it means to Charleston," he said. "I think our delegation is probably going to try to get there. Based on our past conversations, we're going to try to get there. We told (Transportation and Infrastructure Chairman Bill) Shuster we would. We told the Port of Charleston we would."
Congress is scheduled to leave on Friday for a month-long recess.
Lawmakers should find out on Wednesday whether the new compromise on Flint money will pass muster with the majority of the members on both sides of the aisle, or whether the gambit has alienated too many lawmakers to meet the threshold for the bill's passage.
While Republicans might be angry about leadership's reversal, Democrats might not be fully satisfied. Plenty of them are disgruntled not just because of Flint but over Republicans' decision to remove language in the House WRDA bill to sustain the Harbor Maintenance Trust Fund. This disagreement was not addressed on Tuesday night.
The trust fund does not affect whether the $509 million Charleston Harbor dredging project can continue in the short term, once authorized. But a failure to continue to direct money to these coffers could result in a $5 million annual shortfall once the deepening effort is complete, according to U.S. Rep. Peter DeFazio, the ranking Democrat on the Transportation and Infrastructure Committee.
On Tuesday afternoon, DeFazio railed against the GOP from the House floor, gesturing at a blown-up photograph of the Port of Charleston for emphasis.
Source: The Post and Courier