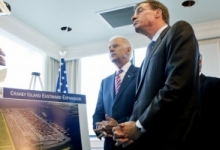 Posted on July 29, 2015
By Lauren King, The Virginian-Pilot
The U.S. Army Corps of Engineers will have a change of command this week in the Norfolk District.
Col. Jason Kelly will take command from Col. Paul Olsen on Thursday morning, according to a news release.
Olsen has been the district commander since March 2012. In the June 2015 Maritime Bulletin, Olsen said the district has made significant progress.
READ FULL ARTICLE HERE