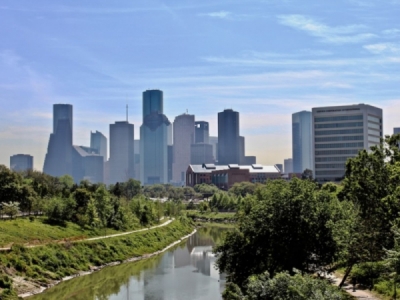 Buffalo Bayou runs through the city of Houston. (Matt Dulin/Community Impact Newspaper)
Posted on November 4, 2020
After receiving multiple public requests to allow more time for public comment, the U.S. Army Corps of Engineers has extended the deadline for residents to weigh in on its study of Buffalo Bayou and the Addicks and Barker reservoirs.
"In response to a multitude of requests from the communities within the study area, we've decided to extend the comment period for the study," said Andrew Weber, project manager for the USACE Galveston District, in a news release. "Getting involved in this study can help the Corps and Harris County Flood Control District develop recommendations that are sensitive to your communities and effectively meet the project goals."
The comment deadline has been moved from Nov. 2 to Nov. 20.
The interim feasibility report was released Oct. 2. It offered a preliminary assessment of several alternative projects for the bayou and its tributaries based on a cost-benefit analysis. Favored approaches included a new reservoir and dam structure in the Cypress Creek watershed, 22 miles of deepening and widening Buffalo Bayou, and property acquisitions. The report did not consider an underground flood tunnel a viable alternative, though the Harris County Flood Control District is still studying the idea.
Public comments can be provided to USACE, Galveston District, Attn: BBTRS, P.O. Box 1229, Galveston, TX 77553-1229; or emailed to bbtrs@usace.army.mil.
Source: communityimpact