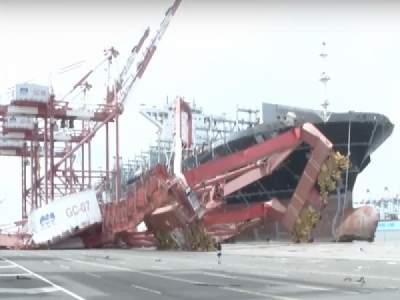 Posted on September 20, 2016
Typhoon Meranti – the most powerful storm to hit southern China since the Communist Party took power – drove multiple vessels aground, into piers or loose from their moorings as it passed, with multiple marine casualties reported in Xiamen and Taiwan.
– The container ship Gan Tai Tai Zhou dragged anchor off Xiamen and went onto the beach at Kinmen Island on Thursday. Local media reported some amount of oil leakage visible on the sand.
– The 14,000 TEU newbuild YM Wind, not yet completed and due for delivery next year, was torn from its mooring and sent smashing into four shoreside gantry cranes at Yang Ming's terminal in Kaohsiung City, taking the pier out of service.
Nine other vessels also lost their mooring cables and were blown into other vessels and port equipment. The full extent of the damage is still being calculated.
Chen Feng-Lin, general manager for shipbuilder CSBC, said that the damages caused by the Wind's breakaway should be covered by insurance.
– Four large fishing vessels were driven aground near Kaohsiung by high winds; the only fatality yet reported in the typhoon occurred when a crewmember of one of the vessels fell over the side. One of the ships is leaking fuel oil and the government is developing a salvage plan.
– Struggling Hanjin Shipping expressed concern for the crews of any of its vessels caught in the storm's path. Roughly half of its ships are awaiting orders in or just outside of Asian ports, with no certainty as to when they will be able to sail on. "The captain and sailors usually sail through other routes to avoid typhoons. But as you know, the ship is just [waiting] outside the port," said Min Park, a spokeswoman for the company, speaking to Quartz. "There have been no deaths or injuries for Hanjin . . . but this is exactly what we are worrying about with typhoons in Asia."
– The typhoon delayed the inaugural Kaohsiung International Maritime and Defense Exhibition due to disrupted flights and hazardous road conditions. The event was organized by the Taiwan Shipbuilding Industry Association and was aimed in large part at naval contracting; domestic shipbuilders are attempting to gain a foothold in the construction of the Taiwanese Navy's fleet, which has historically been dominated by foreign yards.
Source: The Maritime Executive