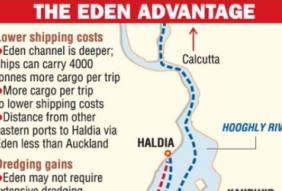 Posted on September 9, 2015
By Sambit Saha, The Telegraph
The Union shipping ministry has directed the Calcutta Port Trust (CPT) to open a new shipping channel to cut dredging costs and improve the navigability of the Haldia port from September 15.
The long-pending move can potentially reduce the cost of shipping at the port and add 4 million tonnes of cargo every year.
The new Eden channel will bypass the existing longer route ships take to come to Haldia (see map). Also known as the western channel, Eden is a deeper drafted channel than the existing Auckland route and may enable ships to carry 4,000 tonnes more per trip.
Moreover, Eden may not require extensive dredging to keep the route navigable like Auckland. The CPT spends around Rs 400 crore annually to keep the riverine port, the lifeline of Bengal's economy, alive.
READ FULL ARTICLE HERE