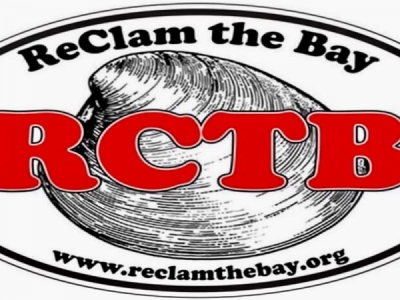 Posted on November 10, 2020
The nonprofit organization ReClam the Bay is not just about growing and returning oysters and clams to the Barnegat, Manahawkin and Tuckerton bays, said ReClam volunteer Marty Volz.
"The most important thing we do is to educate the public about the bay," he told Tuckerton Mayor Sue Marshall and the borough council during the Nov. 2 municipal meeting. "One oyster can filter 50 gallons of water a day – enough to fill a bathtub. When we go to classrooms, we bring along a tank with an oyster, add concentrated algae in the water, and in half an hour the water is clear."
Volz and his wife, Chris, were speaking on behalf of the organization, which wants to put an upweller at the end of South Green Street in the park as another way to encourage good stewardship of the bay. An upweller is a tank that grows oysters or clams from tiny seeds and uses bay water to feed them. It's an established aquaculture technique.
ReClam would take the grown shellfish at the end of the summer to established shoreline projects or clam beds.
Volz' PowerPoint presentation showed volunteers filling bags of shells that had oyster "sets," young oysters, growing on them. These bags are then used to make living shorelines, such as the one at Mordicai Island off Beach Haven, Iowa Court in Little Egg Harbor and, soon, the rock revetments in Tuckerton Beach.
The mayor and borough council were enthusiastic with the idea of ReClam bringing an upweller to Tuckerton's South Green Street Park and asked for some drawings and plans for the borough attorney to look over.
"What do you want from us?" asked Councilman Frank D'Amore.
Volz said the cost of the electricity to run the pump that keeps the water flowing from the bay into the tank generally costs $600 a summer season, but if the borough balks at paying that, the organization could try to raise funds for it. Since the COVID-19 epidemic, however, ReClam has not been able to raise funds at public events, as there haven't been any, he said.
Mayor Marshall said they should get their plans together as well as proof of liability insurance (which the organization has) and give them to Business Administrator Jenny Gleghorn, and the council would discuss it further.
The only other item the borough decided Monday night was to purchase a truck floor liner for the garbage truck from Grand Turk for $5,056. Council President Sam Colangelo said the floor of the truck is completely rusted out, and this purchase would keep the truck in operation and is cheaper than buying a new garbage truck.
D'Amore said he had viewed the new asphalt hot patch equipment purchased for public works that is meant to keep asphalt patches in place and was impressed with it.
Second Dredging Question
Deep-Sixed
Although votes on the dredging issue from residents living on the west side of South Green Street and in the Paradise Cove lagoon community have a few more days to wend their way through the mails, Gleghorn said the vote tally so far was overwhelmingly negative: Seven votes were yes on the west side of South Green Street and the rest nay, and all but one vote from Paradise Cove were no's.
The west-siders in Tuckerton Beach were asked if they would pay a special assessment of $164 per quarter for 10 years to have their lagoons dredged. Paradise Cove residents were asked if they would agree to pay $1,179 quarterly for 10 years for parts of their lagoons and Thompson Creek to be dredged.
During the public comment period, east-side of South Green resident Peter Gioiello asked where the dredging project for his section was progressing.
At the Oct. 5 borough meeting, it had been stated that of the 412 letters sent in September to waterfront residents owning property on the east side of South Green Street in Tuckerton, 175 of those residents voted against paying an additional $174 per quarter for 10 years in a special tax assessment that would be levied for dredging their lagoon. However, 115 voted for the assessment, and another 122 property owners did not respond.
In the letter, residents were told that a non-response would count as a yes vote, but according to Borough Clerk Jenny Gleghorn, only 73 of those non-responses could be perceived as a yes, as 49 were for properties either in foreclosure, bank-owned or returned for incorrect addresses.
So the count came to 188 for and 175 against, a slim, 13-vote margin.
Gioeillo asked, "In my mind we had more yeses, so where are we?"
Gleghorn said the council has not yet made a decision as it was waiting for the results of the two other lagoon sections of the town. If those residents voted for the special assessment, it would make sense to bond for all of the projects at once.
Now that it seems only the east side of South Green Street may be interested in paying for their dredging, Gioeillo wanted the council to make a decision. "Yes or no, are we getting it done?"
Councilman Brian Martin said, "I believe we wanted a definitive feeling from the residents, but to have it come back 50/50 …"
Marshall said it was possible the council might have an answer by the next meeting, in two weeks.
Tuckerton Beach resident John Zubriski, who voted against the special assessment, asked if it was true that the council could decide the issue without the public opinion vote. He was told that was true, but if a special assessment was decided by the council, it would still be open to public comment.
Gleghorn also pointed out that the town has bonded $13 million in water and sewer improvements since Superstorm Sandy in the beach area without imposing a special assessment on the residents.
"We have to invest in the town, and if a grant is available, then we go for it; it makes sense. For a long time, it (investment) wasn't done," she said.
Source: thesandpaper