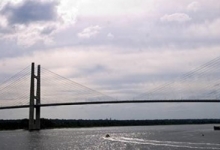 Posted on August 3, 2015
Major Jacksonville Port Authority tenant TraPac Inc. is getting behind a dredging plan that would involve deepening a shorter part of the St. Johns River at a reduced cost, according to a statement.
The new plan, which scales back dredging from 13 miles to 11, would affect TraPac, which is based at Dames Point. If the smaller dredging plan is pursued, TraPac would have to move to Blount Island – something that experts told the Business Journal could be arduous.
The company has been an influential advocate of dredging, but has also been on board with the possibility of moving.
"We have always said that a deeper harbor is a critical component of our competitiveness worldwide, allowing us to fully serve the bigger ships already calling on our Jaxport terminal and enabling us to increase our contributions to the region's economy," TraPac said in a statement.
TraPac has been at Dames Point since 2009, when it began operations at its $230 million container terminal.
The new plan would cost $511 million, as opposed to the $700 million the 13-mile plan calls for. The river would be deepened from 40 feet to 47 feet.