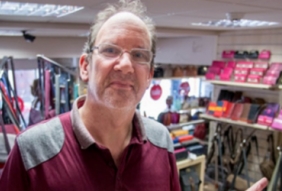 Posted on October 12, 2015
TRADERS have told of their disappointment after the biggest cruise liner of the season was unable to stop at Falmouth – with the lack of dredging of the harbour being blamed.
The Norwegian Star, which was expected to bring between 800 and 1,000 visitors ashore, decided against anchoring in Falmouth Bay due to a heavy sea swell.
The ship had been expected to anchor in Falmouth Harbour on Monday morning but made a late decision to continue its journey.
Passengers would have had to be transferred – or tendered – to shore in smaller boats, which requires calm seas and can be deemed dangerous otherwise.
Traders were left disappointed as many had been preparing for a windfall from cruise customers.
Steven Woodcock, owner of the Bow shop, said: "It does have an impact on us and on the whole of Falmouth and Cornwall.
"We decided to open early and had a full complement of staff in expecting to be busy. The real fear is that cruise liners will not come to Falmouth anymore because they can't get in.
"If the dredging had been done the bigger ships could get into port easier and that would be a bit better."
Phil Boddy, of the Falmouth Cruise Ship Ambassadors group of vounteers who help visitors make the most of the town and Cornwall, said: "Twenty-eight tour buses have been cancelled and hundreds have not been able to spend their money in Falmouth.
"I believe there would have been 2,000 passengers and maybe 800 crew – they all have got money in their pocket ."
Many Falmouth traders and residents and docks businesses believe a proposal to dredge a deeper
channel in Falmouth Harbour is vital to the area's fortunes and would allow more and bigger cruise liners into port rather than having to unload their passengers in the bay.
However some environmental campaigners and fishermen believe dredging would cause unacceptable damage to underwater habitats.