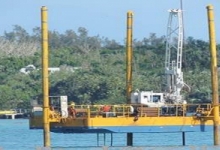 Posted on July 30, 2015
By Owain Johnston-Barnes, The Royal Gazette
A study regarding the possible dredging of Town Cut in St George's has been carried out, sparking hope that "procrastination" on the project is finally coming to an end.
New mayor Quinell Francis is one of many in recent years who have voiced support for modifying the cut — allowing it to accommodate bigger ships — to help rejuvenate the Old Town.
As the Government of Bermuda confirmed an environmental study has taken place in St George's Harbour this summer, East End MP Kenneth Bascome, local residents and business owners all said they hoped a resolution on the project would come soon.
READ FULL ARTICLE HERE