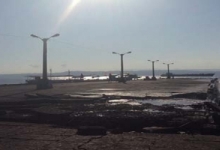 Posted on July 27, 2015
By Carmencita A. Carillo
Tourism stakeholders have called for immediate upgrades to be made to the Sta. Ana Port before proceeding with plans for a mixed-use complex at the site.
The port, built more than 50 years ago, is located in the main business district of the city, adjacent to Chinatown. It was developed by the Philippine Ports Authority (PPA) but is currently under the management of the local government by virtue of a Memorandum of Agreement (MoA) signed in 2000 and in effect until 2025.
"(Davao City's) ports are aged 45 to 60 years. The Sta. Ana wharf is in very bad shape due to years of neglect and the only way to fix it is through rehabilitation," said Arthur Y. Pingoy, president of Hydromax Commercial Diving and Salvage Co., which is engaged in underwater survey, repair and maintenance, and salvage as well as commercial diving services.
READ FULL ARTICLE HERE