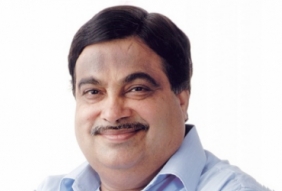 Nitin Gadkari
Posted on December 7, 2015
Union Minister of Road Transport, Highways and Shipping, Nitin Gadkari, said on Tuesday that Kolkata Port Trust would take the help of IIT-Madras for dredging at the Sagar anchorage, which is proposed to be turned into a major port.
"The draft at Sagar (150 km downstream on the Hooghly from Kolkata) is proposed to be raised to 13.5 metres from the current 9 metres. The collaboration would reduce the capital dredging cost at Sagar from ?450 crore to ?200 crore annually," he said.
The proposed deep-sea port at Sagar is aimed at increasing navigability in the region. The port, at the mouth of the Hooghly, is envisaged as part of a multi-stage and multi-modal docking system.
The Minister also laid the foundation stone for a proposed 2.55 million tonnes a year floating cargo handling facility at Haldia Dock Complex of Kolkata Port Trust.
The port authority is setting up the dedicated riverine facility to handle mini bulk carriers (with capacity between 10,000 and 12,000 dead weight tonnes) and barges (for carrying coal). This jetty will be able to accept cargo from the deep draft unloading point (from large ships) at Sagar.
The ?74-crore project will include the setting up of a pontoon, a crane capable of unloading about 10,000 tonnes a day, a 10,000 sq m storage area on shore, connecting roads and other cargo handling equipment.
Bothra Shipping, a private player, will construct the floating jetty and other infrastructure and operate it for 15 years.
Haldia projects
At an event organised by the MCC Chamber of Commerce & Industry here, Gadkari, through remote control, also inaugurated three other projects of Haldia Dock Complex. These include a 1 million tonne fly ash handling jetty, a refurbished gateway to the dock system and a stacker-cum-reclaimer at one of the dock's 14 berths.
The Minister also said a British company has evinced interest in the revival of Hooghly Dock and Port Engineers Ltd, a two-century-old loss-making vessel maker, administratively under the Ministry of Shipping.